Send your news and announcements for the ISB's E-Bass Line newsletter to .
Added 09/05/2012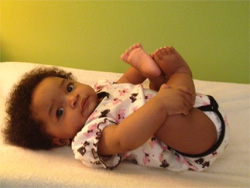 Jeffrey Weisner, bassist in the National Symphony Orchestra in Washington DC and faculty member at the Peabody Conservatory will perform music from his new recording Neomonology on September 7th at 7 at Spectrum, a new music performance space in downtown New York City. Three new works for solo bass written for Jeff will be featured, including Michael Hersch's Caelum Dedecoratum, which he premiered at the 2007 ISB Convention in Oklahoma City. A new CD isn't the only thing keeping Jeff busy lately, he welcomed his daughter Madeleine (picture right) in January!
The Henry Grimes Quartet performs September 7th, 9 PM at the Somethin' Jazz Club in New York City, call 212-371-7657.
Happy birthday number six-zero to ISB past president John Clayton, who is just putting the finishing touches on the latest Clayton Brothers recording project, The Gathering.
The 2012 Brno Double Bass Convention will be September 9-15, Miloslav Jelinek, director. Click here for more information, or email .
The Austin BassFest at the University of Texas at Austin's Butler School of Music, DaXun Zhang, director, takes place September 21-23, 2012 in partnership with the Texas Performing Arts Center. Featured educators and performers include Edgar Meyer, Hal Robinson, Lawrence Hurst, Paul Ellison, Tim Pitts, and Jeff Bradetich. Events during the Bassfest include a solo competition, as well as a TMEA All-State Workshop for high school bassists. Bassists may register to fully participate in masterclasses and workshops (registration deadline September 14th) or audit. All participants receive one ticket to Edgar Meyer's concert presented by Texas Performing Arts on Saturday, September 22nd. Click here for a schedule of events and to register.
Catalin Rotaru, professor of double bass at Arizona State University, will appear at Encuentro Internacional de Contrabajo San Juan, Argentina, September 2nd-8th; on tour in Japan (Kakogawa Bass Seminar, September 23rd-24th, Kyushu Bass Club, September 26th, Shin-Okubo, Tokyo, September 28th, and Tokyo, Musashino Civic Cultral Hall, September 30th); at the Instituto de Música Pontificia Universidad Católica, Santiago de Chile, October 14th-20th; and at the Instrumenta Music Festival, Oaxaca Mexico, November 18th-25th.
Dan Styffe, co-principal bass of the Oslo Philharmonic Orchestra and professor at the Norwegian Academy of Music and Barratt Due´s Institute of Music, performs Rolf Martinsson´s Bass Concerto with the Helsingborg Symphony Orchestra (Sweden) on September 26th. His recording of the concerto was released in August.
Matt Ulery performed music from his new CD By a Little Light at the Pritzker Pavilion in Millennium Park in August as part of the "Made in Chicago: World Class Jazz" concert series.
Murray Grodner celebrated his 90th birthday in style in August with a surprise birthday party and performances by many of his students. A scholarship fund in Murray's honor has been created at the Indiana University Foundation. Click here for a form to complete and mail in with your donation. Murray is offering his extensive library of scores, recordings and copies of manuscripts for sale (price TBD). Click here for a resume of the Grodner Library. For a complete listing of Murray's personal library, email . Murray is also selling a beautiful German model bow in mint condition made by Horst Schicker of Snakewood, silver mounted. Price is $2,750 firm, email to inquire.
The Queensland Conservatorium & Brisbane Festival 2012 presents Bottesini's World on September 25, 2012, 8 PM, with guest artist Thomas Martin, double bass, the Conservatorium Symphony Orchestra, the Brisbane Chorale and the Queensland Conservatorium singers and alumni in a night celebrating Giovanni Bottesini with performances of Bottesini's Concerto No. 2 and Bottesini's "Requiem" (here's an exciting bit of news for sharp-eyed e-newsletter readers, Tom Martin will be releasing his own recording of the Bottesini Requiem in early 2013, stay tuned!) http://www.qtix.com.au/
When flying with your double bass in a trunk in the United States, print out and carry this page with you from the FAA Modernization and Reform Act of 2012. The International Federation of Musicians needs your signature on a petition for fair and uniform treatment by airlines worldwide for musicians flying with their instruments as carry-on and checked baggages. Click here and spread the word! More information at http://www.change.org/.
Dave Holland will coach New England Conservatory students on Thursday, September 27th in a program, "Music of Dave Holland" in Brown Hall.
Quantum Bass Center of Houston, Texas announces a full-time opening for an experienced bass luthier/repairman (orchestral strings oriented). New but very busy shop, high demand for fine-instrument repairs and custom work plus volume of ordinary repairs and new setups. Pay commensurate with the applicant's portfolio and references. Email your interest to . In more news, the winner of Quantum Bass Center's innovative 2012 Texas All-State Double Bass Etudes Reference Recording Competition is Jory Herman of the San Diego Symphony. Says store owner Elisabeth Steves, "This is exactly what we were hoping to inspire, high level professional players contributing to the lexicon of reference materials for young students." http://www.youtube.com/watch?v=Y-DPSchq11E
Has bass playing really gone to the dogs? Click here to read a review of the 2012 KarrKamp, led by ISB founder Gary Karr, where two-legged and four-legged participants always have the time of their lives!
Read an interview with double bassist and composer Shinji Eshima and his San Francisco Ballet commission, RAkU.
The Berklee College of Music announces that Steve Bailey has been named chair of the college's bass department. Bailey, six-string fretless bass pioneer, educator, and author, begins his tenure this summer, succeeding Rich Appleman, who retired in May, 2012, after holding the position for 40 years.
Mark Morton, double bass professor at Texas Tech University, performed the Bottesini Concerto No. 2 with his own orchestration for strings with the Orquesta de Camara Juvenil de Buenos Aires at the Conservatorio Superior de Musica de Buenos Aires "Astor Piazzola," and at the Museo de Arte Hispanoamericano "Isaac Fernandez Blanco" in June.
Winners of the 2012 Concorso Internazionale di Contrabbasso in August were: Alessandro Belli, first prize; Vito Galante, second prize; Stefano Morelli, third prize; and Andrea Cocco, fourth prize.
Yuan Xiong Lu, professor of bass at Texas Christian University, gave a joint recital in July with pianist Jose Feghali, Van Cliburn gold medalist, at the Shanghai, China Concert Hall. It featured the world premiere of "Shanghai Legend" by TCU faculty composer Robert Garwell. The sold out concert was broadcast live and reached more than 60 million viewers and listeners. Watch it here.
The Grammy Museum in Los Angeles opened a new photo exhibition, "Herman Leonard: Documenting the Giants of Jazz" on July 26th. The exhibit will showcase some of the most iconic photos shot by famed photographer Herman Leonard through February 2013.
The upcoming International Johann Matthias Sperger Competition, September 16-23, 2012, is now a member of the World Federation of International Music Competitions.
Congratulations to Daniel Benoit, who won the audition for the Air Force Strings in Washington, D.C. in June.
Violinist Yuzuko Horigome, a veteran professional musician, experienced a nightmare when German customs authorities seized her 1741 Guarneri del Gesù during a stopover in Frankfurt. Customs agents confiscated the instrument when Horigome was unable to show proof of ownership for the rare violin she has owned and performed on since 1986, and because she couldn't pay the €190,000 import tax on the instrument and €380,000 fine for failing to show proof of ownership. Travelers beware! Traveling bassists, don't let this happen to you! Always travel with proof of ownership of your instruments. Better safe than sorry!
Listen to Victor Wooten's inspiring TED (Technology Entertainment and Design) Education presentation "Music as a Language".
Has your career has hit a wall? Do you have a specific project or goal that you want to accomplish but lack the resources? Artists from all disciplines facing these challenges will learn everything they need to know about how to plan and organize their careers through the new online course "The Profitable Artist" offered by Rutgers University's Mason Gross School of the Arts, and based on the book The Profitable Artist, published last year by Artspire, a program of the New York Foundation for the Arts (NYFA). Expert presenters will lead students through topics that include: Strategic Planning in the Arts, Financial Management and Budgeting, Legal Issues for Artists, Marketing in the Arts, and Fundraising for Artists. By the end of this course, artists will have built an action plan for their career or project, and will have developed the skills needed to execute it. Space is limited, click here for more information, or email .
For college/university/conservatory graduates in music looking for a career-enhancing program, the University of Maryland, Baltimore County is now accepting applications for its new "Certificate in Music Entrepreneurship" program beginning Fall, 2012. The one year post-baccalaureate program features a partnership with the Baltimore Symphony Orchestra, Marin Alsop, Music Director and the BSO's entrepreneurial programs, including OrchKids, the largest El Sistema-inspired program in the U.S. Click here for more information.
The Sydney Morning Herald recently reported great news for Australian arts advocates — every student in the country's school system will now study dance, drama, media arts, and visual arts through age ten. Officials with the Australian Curriculum Assessment and Reporting Authority claimed that research shows music programs in disadvantaged schools boost classroom participation by students.
MondoMusica is organizing an international show of string instrument and accessory makers in New York City that will be open to the public, March 15-17, 2013. Information for exhibitors and attendees can be found here. Click here for more information.
The Lawrence P. Hurst Scholarship/Fellowship at Indiana University Jacobs School of Music has been established to honor his 48 years of teaching excellence. Fans, friends and former students can send a contribution to the IU Jacobs School of Music, Office of Development, 1201 East Third Street, Bloomington, IN 47405.
The Maestro Foundation loans high quality string instruments to college-age students who could not otherwise afford them. Read more here.
Tarisio Auctions has launched a $10,000 string instrument grant designed to help young musicians at the start of their careers. The Tarisio Matching Grant Program awards up to $10,000 of matching funds towards the purchase of a string instrument or bow in one of Tarisio's fine auctions. It is open to players aged under 30 who are currently enrolled in or have graduated from a music performance degree program. The winner is drawn at random two weeks before the auction. There are four auctions per year, two in London and two in New York. Click here for more information and to apply.