Learn to Fly (Safely)!
Follow these step-by-step tips from Robertson & Sons for packing your bass so it arrives safely, especially the instructions how to properly support the neck to prevent the dreaded "neck snap" during transit.
FAA Modernization and Reform Act of 2012 Final Rule Effective March 6, 2015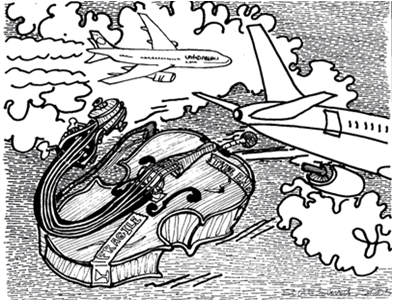 H.R. 658, which was signed into law by the President on February 14, 2012, will finally be implemented on March 6, 2015. Click here to read the Final Rule clarifications for carry-on and checked baggage, and for more information go to this Department of Transportation webpage.
FAA Modernization and Reform Act of 2012
The FAA Modernization and Reform Act of 2012 (H.R.658) was signed into law by the President on February 14, 2012. Thanks to some very hard work by the American Federation of Musicians, a national instrument policy was included in H.R.658, which goes into effect upon issuance of FAA regulations to carry out the law. This must occur no later than February, 2014. Meanwhile, you may continue to face difficulties at the airport until the new procedures are fully rolled out and adopted by the airlines. Flight attendants, gate attendants, and baggage handlers may not yet be aware of the new law and often don't know the airline's own policy for traveling with musical instruments. Click here to download a copy of the national instrument policy. Please print it out and put a copy in your bass trunk. H.R.658 allows for musical instruments as checked baggage if the linear dimensions of the trunk (length, width and height) do not exceed 150 inches and the weight does not exceed 165 pounds.
H.R.658 does not apply to flights outside the U.S., but there is a movement led by the International Federation of Musicians for adoption of a uniform worldwide policy for air travel with musical instruments.
To learn more about individual airlines' policies for musical instruments as checked luggage, use your search engine and look up "[NAME OF AIRLINE] Contract of Carriage."
Traveling Across International Borders with Your Bass & Bow: The Endangered Species Act
Read how it could affect you at the U.S. Fish & Wildlife Service International Affairs webpage.
Welcome to Rent-a-Bass
A Free Service That Connects Basses To Bassists!
It's getting harder and harder to travel with an acoustic bass these days, as I'm sure most of you know. Since the spring of 2002, I have been renting basses for every date I do on the road, which works out to be over 120 different basses a year. Most of the time the quality is good, but there's been a few gigs where I would have had a better time "scatting" my bass lines.
Google searching for music stores might work for a few major cities, but even then you run the risk of getting a bass that came straight from a factory and wasn't set up by a professional. In my concert rider, I began requesting that the bass be rented from a professional bass player or string repair shop, not a general music store. This one little sentence completely changed the quality of instruments that I now receive. The only trick is finding the professional bass players in each town that we go to.
On one occasion, I had a 10 day tour lined up, but none of the venues were able to locate an instrument. All of our contact people were clueless on who to call or where to look. That's when it hit me. I decided that with the way things were going, we bassists needed a website where we could locate instruments on the road.
I've been fortunate to have played many great basses that came from very nice bass players. They were willing to rent their personal bass (or quality back up) out for a night. My thought is, if these bassists were willing to rent a bass out for my show, they probably wouldn't mind renting their bass out again to the next group that comes through the venue.
If we bassists stick together, we can save ourselves from the hassles of the unforgiving airline industry, not to mention the backpain from carrying flight cases! This is my gift to the bass world. Happy traveling!