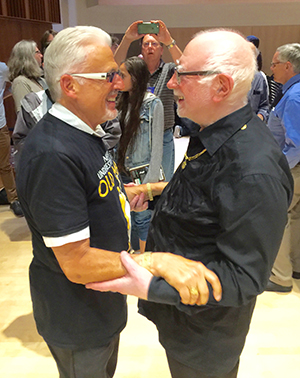 In 2021, two beloved legends of the double bass will celebrate landmark birthdays. Our ISB founder, educator, and legendary soloist Gary Karr turns 80 years young, and France's world renowned soloist, composer, educator, and visual artist Francois Rabbath turns 90 years young.
Now Gary and Francois are teaming up to raise money for $500 USD grants for bassists who are in need during the COVID-90 pandemic as part of the ISB's Project 80/90. Here's how YOU can help!
Participate in Project 80/90 Fundraisers
Click here to bid in an auction featuring four exceptional bows from the collection of Gary Karr (an antique bow by CE Tubbs, two bows by HR Pfretzschner, and a bow by Renata Gonski).
Click here to enter a sweepstakes to win one of ten original paintings by Francois Rabbath.
Bassists, Apply for a Project 80/90 Grant
Bassists in need of assistance are invited to apply for a $500 USD grant. ISB membership NOT required. Recipients will be notified on or before October 15, 2020.
If you have any questions about the fundraisers or grants, please contact .