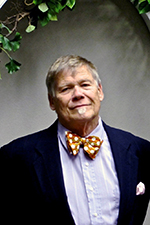 The world of music, especially our double bass community, lost the world-renowned pianist and organist Harmon Lewis on January 11, 2023. He was best known for the past 52 years as a member of the Karr-Lewis Duo. Harmon helped advance the double bass as a solo instrument through the dozens of popular recordings he made with his professional and life partner Gary Karr, encompassing the depth and breadth of double bass solo and chamber repertoire, and performing on recital stages around the world.
To remember Harmon, the ISB is proud to announce the ISB / Harmon Lewis Collaborative Keyboard Artist Grants program. These grants of up to $1,000 will help double bassists hire collaborative keyboard artists for their own public performances and recording projects.
To make a donation honoring Harmon and his remarkable life and career, click here. Select General Support and be sure to note that your donation is in memory of Harmon Lewis.
To apply for a grant, read the application guidelines below and click the button to proceed to the application.
Application Guidelines
Must be an ISB member at the time of application. No age limit.
If selected to receive a grant of up to $1,000:

The bassist must send an invoice from the keyboard player, either to pay or to reimburse payment.
The ISB will require documentation of the public performance or recording project: a copy of or link to a recording, printed program, publicity announcements, reviews, etc.

The number of grants given will depend on funding available by the application deadline of Saturday, April 1, 2023.
Grants will be awarded for future public performance or recording projects or those completed on or after September 1, 2022. A recording project can be, but is not limited to, a CD, LP or digital album for sale, or recording(s) for competitions and college applications.
Apply by Saturday, April 1, 2023. Decisions will be announced by Monday, May 1, 2023.
If you have any questions about applying for a grant, please contact .