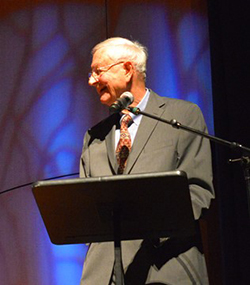 Every two years, the International Society of Bassists gives its Distinguished Achievement Award, the Society's highest honor, to a bassist who has demonstrated and attained the highest level of excellence, and whose career has had significant influence on the worldwide double bass community. The 2015 Distinguished Achievement Award honoree is Lucas Drew. After a distinguished career of more than 40 years of teaching and performing, he is now Professor Emeritus at the University of Miami Frost School of Music and principal double bass emeritus of the Florida Philharmonic Orchestra, and editor of St. Francis Music Publications. He has given premieres of many 20th century compositions and performed throughout the world. He was editor of the ISB's journal from 1974 to 1982, and president of the America String Teachers Association from 1982-1984. He received the ISB's 2007 Special Recognition Award for Scholarship. Many of his former students are active in music professions including Lloyd Goldstein, who presented the award. Dr. Drew accepted with these words:
"A noble instrument should be nobly regarded. This quote, attributed to Frederick Zimmermann, has been realized during the last 50 years. Bass teaching and performance, classical and jazz, have excelled throughout the world. Members of the International Society of Bassists have played a major role in this evolution. When questioned regarding the meaning of his Songs Without Words, the great composer Mendelssohn felt that words were vague and ambiguous when compared to genuine music, which fills the soul with a thousand things better than words. We are all fortunate to have music as part of our lives. I accept this award with gratitude. You represent the new generations of exceptional double bassists. To all of you and to my wife Judy, thank you very much."
Composition — Edgar Meyer
Lutherie — Mario Lamarre
Scholarship — Michael Greenberg
Teaching — Harold Robinson
Solo Performance — Božo Paradžik
Jazz Performance — John Patitucci
Orchestral Performance — Joel Quarrington
Historically Informed Performance — Jerry Fuller
Collaborative Music — Gene Bertoncini
Young Bassist Ambassador — Kristin Korb
Special Merit — Lucas Drew
Friend of the Bass — Peter Gallagher
Friend of the Bass — Ralph Alcala
Friend of the Bass — Colorado State University
Friend of the Bass — Howard Eisberg
Click here to see a list of past ISB Award winners.