Click here to see a list of past ISB Award winners.
To read about the ISB Awards procedures, click here.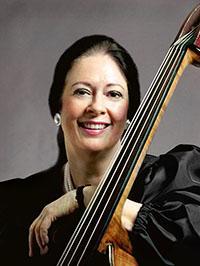 Distinguished Achievement Award
The International Society of Bassist's Distinguished Achievement Award is given biennially for a lifetime of accomplishment. It is the ISB's highest honor, and we are proud to announce the recipient of our 2017 Distinguished Achievement Award, Orin O'Brien.
Orin O'Brien received her early musical training in Los Angeles, where she studied with Milton Kestenbaum and Herman Reinshagen. She then studied in New York with Frederick Zimmermann and graduated from The Juilliard School. She has been a member of the New York Philharmonic since 1966, where she has played with the world's leading conductors. She co-chaired the double bass department of The Juilliard School for ten years, and currently serves on the faculties of the Manhattan School of Music and Mannes College of Music. Her Double Bass Notebook, published by Carl Fischer, is a must-read for aspiring professional bassists, and she is a generous longtime patron of the ISB, especially its biennial orchestral competition, and is also our 2017 Special Recognition Award honoree for Orchestral Performance. Congratulations, Orin!
Special Recognition Awards
Every two years the International Society of Bassists recognizes those who have contributed their special skills, knowledge, projects and other positive works in furthering the ISB's mission to Inspire, Educate and Connect. Our 2017 Special Recognition Award honorees are:
Composition – John Clayton & Bert Turetzky
Lutherie – Steve Reiley
Scholarship – Eugene Levinson
Teaching – Diana Gannett & Jack Budrow
Solo Performance – David Murray
Jazz Performance – Stanley Clarke & Eddie Gomez
Orchestral Performance – Orin O'Brien
Historically Informed Performance – Joëlle Morton
Collaborative Music – Sheila Jordan, vocalist, & Marina Pacowski, pianist
Young Bassist Ambassador – Derek Weller & Dan Swaim
Special Merit – David Gage
Friend of the Bass – Jason Heath