Click here to see a list of past ISB Award winners.
To read about the ISB Awards procedures, click here.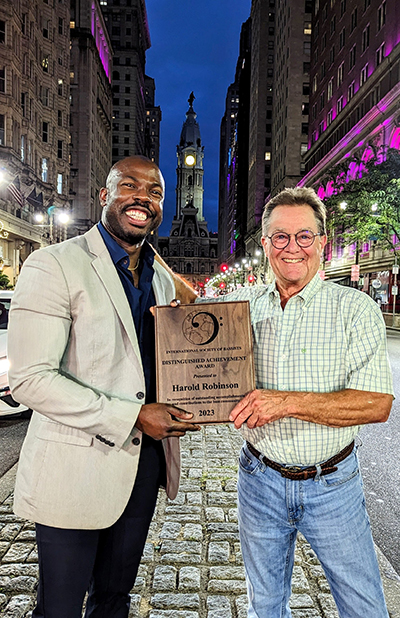 Distinguished Achievement
The International Society of Bassist's Distinguished Achievement Award is given biennially to recognize a lifetime of accomplishment. It is the ISB's highest honor, and we are proud to announce the 2023 recipient, Harold "Hal" Robinson.
Harold "Hal" Robinson joined The Philadelphia Orchestra as principal bass in 1995 and held that position until his retirement in 2022. Hal previously served as principal bass with the National Symphony (1985-95), assistant principal bass of the Houston Symphony (1977-85), and principal bass of the New Mexico Symphony, then known as the Albuquerque Symphony (1975-77). He was a prizewinner at the 1982 Isle of Man Double Bass Competition, and has performed concertos with The Philadelphia Orchestra, the Houston Symphony and Houston Pops, the New York Philharmonic, the American Chamber Orchestra, and the Greenville (South Carolina) Orchestra.
A native of Houston, Texas, Hal studied at Northwestern University and the Peabody Conservatory, and has given recitals and masterclasses around the world. He has commissioned and co-commissioned new works for the bass, including David Anderson's Concerto for Double Bass, Harp & Strings, and Ellen Taaffe Zwilich's Quintet for Violin, Viola, Cello, Contrabass and Piano. Hal joined the faculty of the Curtis Institute of Music in 1995, and also serves on the faculty of The Juilliard School.
Special Recognition Awards
Every two years the International Society of Bassists recognizes those who have contributed their special skills, knowledge, projects and other positive works in furthering the ISB's mission to Inspire, Educate and Connect. Our 2023 Special Recognition Award honorees are:
Composition — Nicholas Walker
Lutherie — Susan Lipkins
Scholarship — Heather Miller Lardin
Teaching — Linda McKnight
Solo Performance — Lorraine Campet
Jazz Performance — Linda May Han Oh
Orchestral Performance — Edicson Ruiz
Historically Informed Performance — Heather Miller Lardin
Young Bassist Ambassador — Johnny Hamil
Special Merit — Joseph Conyer
Thanks to our 2023 Awards Committee
Hans Sturm, Chair
Lynn Hannings
Jason Heath
Larry Hurst
Larry Hutchinson
David Murray
Shanti Nachtergaele
Rufus Reid
Tracy Rowell
Lynn Seaton
Maggie Urquhart