Watch our 80th birthday tribute to learn more about Gary's life in words and pictures.
Watch Gary's headlining recital featuring the late, great Harmon Lewis from the ISB's 2021 virtual convention, including a tour of Gary's gorgeous backyard garden shot from a camera mounted on a model train.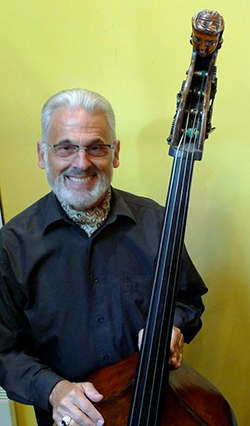 GARY KARR (born November 20, 1941) has created an unparalleled and groundbreaking international career as a performer, recording artist, educator, innovator, philanthropist, and icon. For over 60 years, Gary has inspired bassists of all ages to reach for the stars, and he continues to serve as a worldwide ambassador for our beloved instrument.
Since his debut with Leonard Bernstein and the New York Philharmonic in 1962, Gary has performed as a soloist with orchestras on six continents. He has reached millions of music lovers through live and virtual recitals appearances, radio, television and print interviews, and dozens of acclaimed recordings (Gary Karr Store). Gary's command of the repertoire includes solo and chamber music from Baroque to Contemporary periods as well as virtuoso transcriptions. He has not only commissioned new music for double bass, but dozens of composers have dedicated works to him.
In 1961, Gary met pianist and organist Harmon Lewis, who became his professional and life partner. For over 50 years they toured the world as the Karr Lewis Duo, delighting audiences wherever they went and gaining new fans for the double bass.
In 1967, Gary founded the International Institute for String Bass, now known as the International Society of Bassists, creating a welcoming forum for members of all ages and abilities to learn about and explore all aspects of the instrument.
Gary's generosity to the ISB has known no bounds, and he remains our single largest benefactor. In 2004, he gifted the ISB with his fabled double bass, once owned by Serge Koussevitzky and given to Gary by his widow, Olga. Now known as the Karr-Koussevitzky Bass, it is available to ISB members to borrow for concert appearances and recordings. During the COVID pandemic, Gary donated nearly $300,000 in COVID relief grants for bassists around the world.