Help Us Celebrate the ISB's 50th Anniverary in 2017!
Click the links below for a bit of ISB history!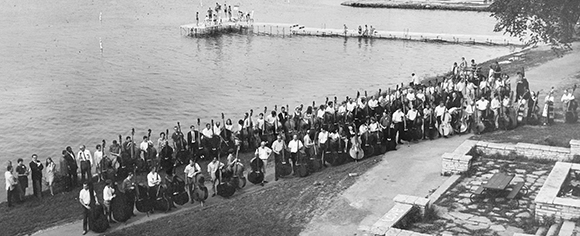 The International Society of Bassists was founded in 1967 by Gary Karr, who wanted to give his fellow bassists the feeling of belonging to something exciting and special. From its first gathering of some 60 bassists at the University of Wisconsin in June, 1967, to the latest convention in 2015 at Colorado State University, which attracted over 1,400 participants, the ISB has continued to grow in scope and influence. We now inspire, educate and connect nearly 3,000 members in over 40 countries!
As we approach our 50th anniversary, ISB President Douglas Mapp has been inspired to start a first-ever biennial fund drive, not only to support our organization's ongoing outreach, but also to help make our 2017 convention, June 5th-10th at Ithaca College, the biggest and best ever.
Every gift, large and small, is deeply appreciated and brings us closer to our goal. Donate in honor or memory of a teacher, artist, colleague or family member who has enriched your life. Donate because the ISB is your professional society, as a performer and educator.
Donate today, because it's all about Bass Love for the instrument that unites us.
The ISB sends a big "thank you" out to these generous supporters of our 50th anniversary fund drive to date! Thanks to you, we have raised over $46,000 so far. We have less than $4,000 to go to reach our goal!
Last Updated: 04/18/2017
Richard Alleshouse
George Amorim
John Bany
Jim Barnett
Don Beller
Jeff Bradetich
David Brossard
James Buchanan
Toni Buffa
Richard Burd
James Butler
Jeff Campbell
Alexandro Cazares
Charlie Channel
Zi-Ping Chen
Han Han Cho
William Clay
John Clayton
Joe Cole
Todd and Darla Coolman
Madeleine Crouch
Richard Davis
Mark Dresser
Lucas Drew
Michael Drost
Mark Drury
Brent Edmondson
Robert Farris
Stephen Fillo
Ryan Ford
Claus Freudenstein
Mia Frieder
Jerome Fuller
David Gage
Peter Gallagher
Bruce Gertz
Maritza Godwin
Lloyd Goldenstein
Robert Goodlett
Greg Gottlieb
Jay Grauer
Barry Green
Forest Greenough
Susan Hagen
Allegra Hale
Alexander Hanna
James Hayden
Jonathan Heintz
Mike Hennessy
Jory Herman
Bryan Hieronymus
Washtub Jerry
Penn Jillette
Gary Karr
Mark Kausch
John Kennedy
Randall Kertz
Mark Kindig
Kingdom of the Sun Concert Band
Sarah Klein
Tom Knific
Barrie Kolstein
Kristin Korb
Chris Kosky
Jeremy Kurtz-Harris
Mario Lamarre
Alan Lewine
Kevin Mann
Douglas Mapp

Marc Marder
Andres Martin
Connie Martin
Taylor Martin
Gaelen McCormick
Daniel McDougall
Nathan Melhorn
Nancy Merriam
William Moore
Nye Morton
David Murray
Buell Neidlinger
Orin O'Brien
Shimpei Ogawa
Joan Orcutt
Vincent Osborn
Julianna Ostrovsky
Michele Packard-Milam
Marina Pacowski
Michael Peak
Brian Perry
Craig Peterson
Ray Pfeiffer
Barre Phillips
Scott Pingel
Bren Plummer
Frank Proto
Karyn Quinn
Najam Qureshi
Diana Rai
Marc Ramirez
Raymond Ramirez
David Ramos
Mary Rannie
Rufus Reid
Noah Reitman
Alexandre Ritter
Janine Riveire
Denton Roberts
Paul Robinson
Marie Rodriguez
John Schimek
Stefano Sciascia
Eero Seppä
Tall Bill Siefkin
Tisha Simeral
Alice Spatz
Werner Spies
Donovan Stokes
Timothy Stone
Julie Stover
Hans Sturm
David Teague
Richard Thompson
Ralph Thorp
Jack Unzicker
Jay VandeKopple
Rafael Velez
Vaijayanthi Viadyanathan
Marcel Villaflor
Nicholas Walker
Zeyu Wang
Kiyoe Wellington
Fumiko Wellington
Michael White
Dustin Williams
Glenn Woodside Sr.
Ali Yazdanfar
David Young

If you've made a donation to the drive but your name is missing from the list of donors-to-date above, !