Andrew Kohn (USA), chair of the 2022 ISB Research Competition, along with fellow judges Shanti Nachtergaele (USA/Canada), Igor Pecevski (Serbia) and Robert Sabin (USA), announces the winners of the 2022 competition. There were two divisions for Professionals and Students. The biennial competition is open to all researchers.
Entries, submitted anonymously, are previously unpublished papers reflecting a high quality of scholarship in a wide variety of disciplines relevant to the double bass. Topics may be presented from any number of different perspectives or disciplines, such as historical musicology, classical or jazz performance practice, pedagogy, lutherie, iconography, biography and/or analysis, and may deal with subjects stemming from any period in the instrument's history up to the present.
The grand prize is $500 for each division, publication in the ISB's Online Journal of Bass Research, and an invitation to present the winning research papers at the 2023 ISB Convention, to be held June 5-10 at the University of Michigan, Ann Arbor.
The winners of the 2022 ISB Research Competition are:
Professional Category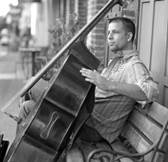 Grand Prize: E-Portfolios as Learning Tools for Applied Double Bass Study: A Research-Based, Practice Oriented Approach by Mark Elliot Bergman, Sheridan, Wyoming
Dr. Mark Elliot Bergman is the Director of Strings and Orchestral Studies at Sheridan College. He directs the Sheridan College Symphony Orchestra and the Sheridan College Viol Consort. Additionally, he teaches bass, cello, viola da gamba, electric bass, and composition lessons. In 2018, Mark received the Wyoming Performing Arts Fellowship, recognizing his state-wide contributions as a composer and performer. In 2011, the Arts Council of Fairfax County (Virginia) awarded him the Strauss Fellowship for his work as a composer. Cognella Academic Press published his first book, In The Groove: Form and Function in Popular Music, in 2012. His second book, Get Up, Stand Up! Higher Order Thinking in Popular Music Studies was published by Scholars Press (2016). Mark earned his doctorate from George Mason University in 2015. He also holds degrees from Yale University, the Eastman School of Music, and the Manhattan School of Music, where he studied with Orin O'Brien.
Student Category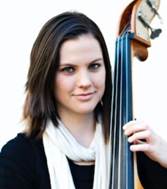 Grand Prize: Learning Strategies for Complex Rhythms: Approaching Barrett's splinter for Contrabass Solo (2018-2022) by Kathryn Schulmeister, Pasadena, California
Kathryn Schulmeister is a member of several contemporary music ensembles including the renowned Australian ELISION Ensemble, Fonema Consort (NYC), and the Echoi Ensemble (L.A.). Kathryn is currently pursuing a Doctor of Musical Arts degree in Contemporary Music Performance at the University of California, San Diego, studying with Mark Dresser. She received her Bachelor of Music degree from the New England Conservatory of Music in Boston and completed her Master of Music degree at McGill University in Montréal.