Monday, June 5, 2023
University of Michigan School of Music
Ann Arbor, Michigan
A Day to Learn and Experience All Your Bassists Can Do!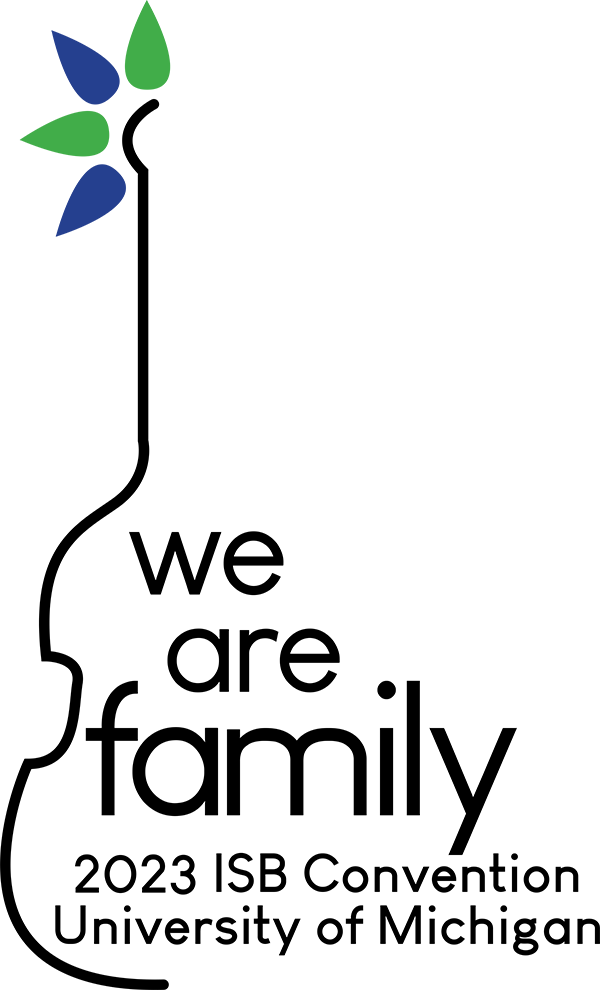 The International Society of Bassists (ISB) is the largest teacher/player community dedicated exclusively to the double bass. The ISB's biennial international convention will be back live and in-person in Ann Arbor, Michigan the week of June 5-10, 2023. And we're kicking off the convention with Bass for Non-Bassist Teachers Day, just for you!
Monday, June 5th will be dedicated to hands-on learning for teachers who are not primarily bassists to build their bass skills, their awareness of what is possible, and their ability to help their bassists achieve all that they can. The finest bass teachers will offer classes on:
Hands-on skill-building
Working with young bassists in group settings
Bass maintenance
Group diagnosis and teaching — helping bassists from the podium
Recruitment and motivation
Materials and repertoire for the developing bassist
Topics that you bring to the workshop
You will leave with resources to support you going forward — mentors, clinicians, materials and ideas! The ISB is deeply invested in helping you to develop and nurture future bassists and support your students!
Join us in Ann Arbor for a day of bass love!
Who is Bass for Non-Bassist Teachers Day for?
We are targeting public and private school orchestra teachers who work with young bassists but are not themselves primarily bassists.
Who will be teaching on Bass for Non-Bassist Teachers Day?
This special event will be directed by bassist and teacher John Kennedy, ISB past-president and 30-year veteran public school orchestra teacher. He will be joined by:
Teachers and performers from around the US and the world who specialize in working with school orchestras and young bassists
Luthiers specializing in basses for young bassists
Young bass performers and ensembles
Mentors from the jazz and classical traditions
The full lineup of teachers and mentors will be announced as we get closer to the Convention.
During Bass for Non-Bassist Teachers Day, participants will be guided to create a schedule that meets their needs and interests, including:
Fundamental technique classes — how to play, and how to communicate technique to the young bassist
Bridging the gap — techniques to effectively teach bassists alongside the upper strings
Motivation and opportunity — repertoire for individuals and bass sections to build technique and excitement
Question and Answer sessions with School-teaching Bassists and Teachers of young students
Instrument setup and maintenance — what's essential, what's nice, what are absolute no-nos (bass triage for school instruments) - bringing an instrument from your school to play on and work with will be a valuable part of the experience (although rental instruments will be available if necessary)
Demonstrations and performances by young bassists
Evening performance by the world-renowned ensemble Time for Three
Time for one-on-one learning and networking — our goal is for you to return home with a network of committed bass mentors who can continue to support you in the future
What is the ISB Convention?
Our biennial convention is dedicated to the ISB's mission to "Educate. Connect. Inspire." We bring together over a thousand bassists, collaborative musicians, vendors and guests from around the world for a week of performances, learning, teaching, and networking. Over 150 individual events include masterclasses, pedagogy forums, luthier panels, historical research, lectures, recitals and evening headliner concerts by some of the world's greatest bassists crossing all performance genres. The 2023 Convention will be held at the University of Michigan School of Music, Theatre & Dance in Ann Arbor, Michigan. Evening headliner concerts will take place at the historic Michigan Theater in downtown Ann Arbor.
Schedule for Bass for Non-Bassist Teachers Day, Monday, June 5, 8:30 AM — 10:00 PM
The day's schedule will be tailored to fit your needs and interests. Activities at the UMich School of Music, Theatre & Dance during the day will include classes and workshops, individual sessions, performances, Q&A sessions, lunch and dinner on your own with teachers and mentors, and in the evening, enjoy the opening concert by Grammy-nominated Time for Three at the Michigan Theater.
Housing Options
Watch this page for information about on- and off-campus housing options.
Registration
Thank you for your interest in attending ISB 2023 Convention. Online pre-registration is now closed. You may register in person at the University of Michigan. The registration desk will be located in the atrium lobby of the Earl Moore Building of the School of Music. Parking is available in three lots near the Moore Building. If you have any questions about joining or ISB 2023 Convention, please contact the ISB Office at or 972.233.9107 x224.