Click here to view the photo album.
My Week As a Build-A-Bass Apprentice
By Alejandro Zapata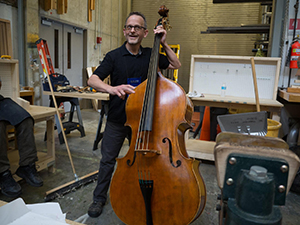 I attended the 2017 International Society of Bassists Convention as a volunteer and came away with an experience worth its weight in gold as part of the ISB's "Build a Bass in a Week." The name says it all, as a group of luthiers of all skill levels took on the daunting task of completing a handmade bass in one week. This challenge brought together a cross section of men and women from all walks of life and corners of the globe to take part in the construction of an instrument. There was easily 150 years or more of combined experience in the Build a Bass workshop. Some of the thirty-plus participants took part in the 2017 ISB Maker's Competition as well. At the helm once again for the second biennial Build a Bass in a Week project was master luthier Paul Hart.
They say that experience is the teacher of all things. Build a Bass in a Week was more than a workshop, it was truly a laboratory for teaching those new to luthiery. As someone with only a few years of experience, the week was a densely-packed learning supplement for me. Build a Bass in a Week allowed me to get hours of hands-on experience during the instrument building process. Outside of a trade school or college program, there are few places I could have learned so many new skills from expert craftsmen, let alone work alongside them, in such a short period of time.
I never had the opportunity in my musical education to work so closely with a teacher, but I would liken the experience to a traditional apprenticeship, the kind of situation where students not only work, but also live alongside the master who leads them on their journey. This was another unspoken boon of the gathering of craftspeople in Ithaca. We not only worked together, we had breakfast, lunch and dinner together. This allowed for not only the passage of professional knowledge but also the life lessons and inspiration that can be gleaned only when others feel at ease and let their guard down.
The community of luthiers is a small, tight knit group that carries the torch for this ancient craft. Seeing the older generation passing their knowledge to the next one was truly inspiring for me. Someone told me long ago that life is made of people, and I have seen this proven true time and again. The professional relationships and camaraderie that form through events such as the Build a Bass Project are priceless. I cannot thank the organizers of ISB enough for making such a unique and wonderful event possible, I will cherish the experience for years to come.
Alejandro Zapata is an apprentice luthier at the Lisle Violin Shop location in Houston, TX. He is also a blogger at Sawdust.blog
Thanks to Stephen Burke for these photos documenting the 2017 Build a Bass team's epic week, from the first stages to centerstage on Saturday night, when 2017 solo competition winner Aaron Olguin christened this beautiful bass with a Bach suite. Sweet! The Build a Bass raffle took in nearly $10,000 benefitting the ISB, and was won by Erik Lillestol of Minnepolis, MN.
You may click on any image to see a larger version or start a self-guided slideshow.